Need help with your studies?
MyAPP (My Academic Performance Plan) is an academic programme  designed to:
assist you with skills and strategies to enhance their academic performance.
equip you with skills such information processing skills, memory, time management, concentration tips, etc. Our workshops are interactive and informative.
you are offered personal development workshops that cover aspects related to learning such as goal setting, motivation, attitude and anxiety and stress management, presentation skills, coping with group work.
The programme also utilises different psychometric tests to assess your learning styles, study skills, etc.
The following questionnaires are administered by qualified psychologists and free for all registered students at Central University of Technology:
LASSI (Learning and Study Strategies Inventory)
MBTI (Myer Briggs Type Indicator)
Few comments from some of the workshop attendees
"The workshop has helped me to identify my weaknesses in time management and study skills."
"I have learned the importance of preparing for test and budgeting time when writing tests & exams."
"The facilitator was warm and shared valuable information with us."
Book your spot
Booking is essential. Each session is scheduled for 1 hour.

Contact us
Wellness Centre Room 201 Lapeng Building (Weekdays from 07:45 to 16:30).
Tel: 051 507 3154 | E-mail: mkenke@cut.ac.za

What is covered in the workshops?
Memorization and concentration techniques,
Time Management (Developing a planner, drafting a study time table) & Goal Setting)
Testing taking Strategies & Exam preparation
Managing Test Anxiety
Textbook reading techniques
Effective study habits (How, when and how much to study)
Learning Styles (Visual, Auditory, Read/write, Kinaesthetic)
Workshop Programme: Assessment Preparation 2017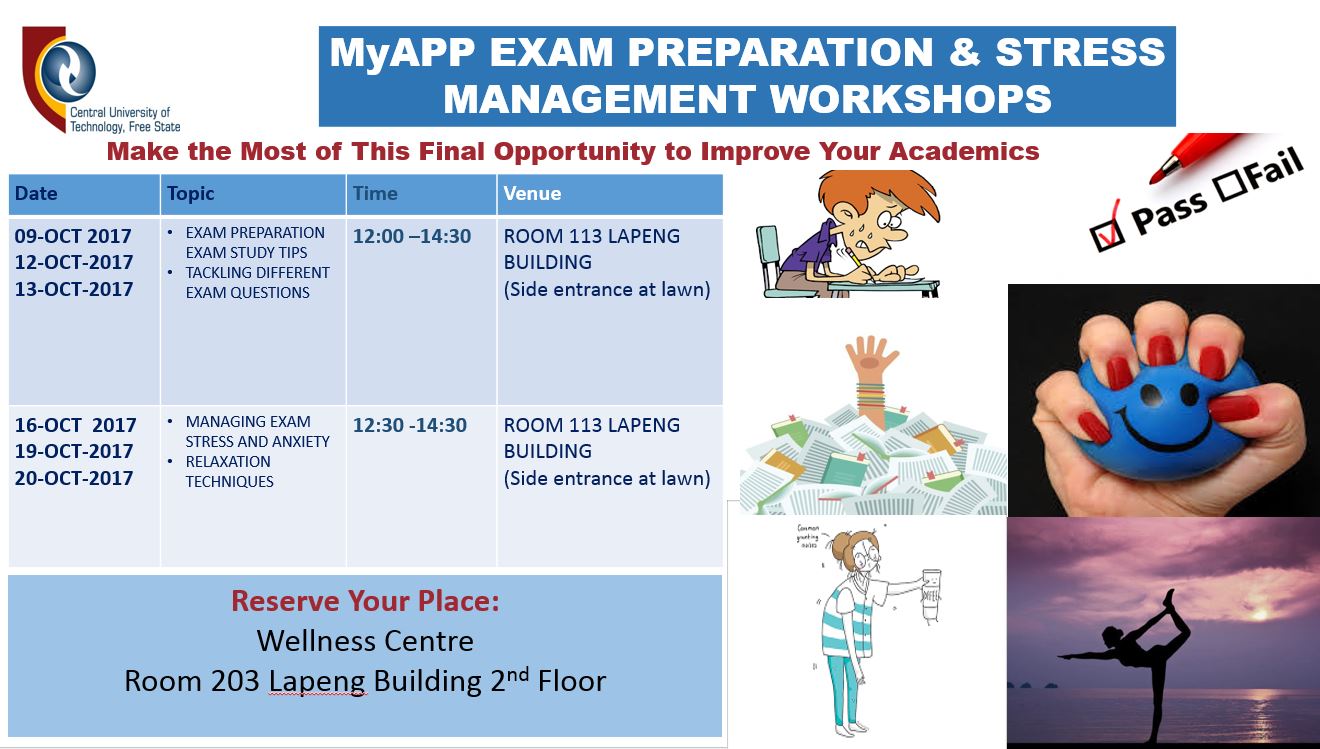 Updated: 09 October 2017