The South African Weather Service and The Central University of Technology, Free State (CUT) foster collaboration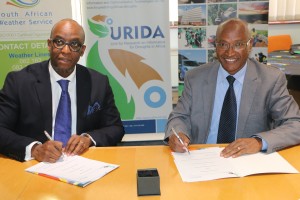 The South African Weather Service and The Central University of Technology, Free State (CUT) foster collaboration
Today marks the official kick-off of the programme of action for an MOU that was signed between the South African Weather Service (SAWS) and CUT.  The ceremony was jointly attended by Mr Jerry Lengoasa, CEO- SAWS and Prof. Yali Woyessa, acting Dean Faculty of Engineering and Information Technology, CUT.
The major thrust of the MoU is to promote mutually beneficial cooperation between SAWS and CUT in various fields of applied research activities including climate and weather-related research, specialised equipment sharing, student attachment, student supervision, staff exchange, technology transfer, publication, data sharing, joint projects.
The MoU seeks to strengthen cooperation with a view to achieving their shared objectives, in particular with regard to the promotion of science of meteorology, sharing technology, development and maintenance of meteorological infrastructure, climatology and hydrology for the safety of human life and property, protection of the environment, sustainable economic and social development, and education and training in relevant fields.
The kick-off programme is accompanied by the endorsement of an implementation plan for a joint research project investigating the role of ICT and indigenous knowledge in realising a community-based drought and outdoor thermal comfort early warning system: a case study of selected areas in Free State, KZN, and North West Provinces, South Africa. This three-year project is partially funded by the two institutions and focuses on the development of a frame of integration of modern and indigenous drought forecasting system, outdoor biometeorological analysis and seasonal climate prediction.
Uploaded: 06 June 2017