New book: A manual tool to assist youth to find meaning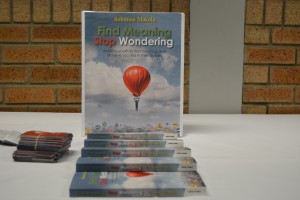 On 31 May 2017, Dr Solomon Makola, Campus Director at Welkom campus launched a new book entitled Find Meaning, Stop Wondering which is aimed at assisting youth and  adults to find meaning and achieve success in their studies. Rooted in the philosophy and practices of Holocaust survivor Dr Viktor Frankl, Find Meaning, Stop Wondering proposes that meaning can be found even under the most devastating and stressful of circumstances.
In delivering his address Dr M. A Kanda, Principal Medical Officer in a community mental health unit in West Rand District, Gauteng province, a Logotherapy facilitator at Centre for Applied Psychology and an e-tutor for an Anthropology module at UNISA reflected on why it is important to read this book. He addressed very challenging issues of power, money and knowledge in the context of violence and displacement. He said poverty, violence and displacement have an impact on human beings at a community and family level. "When you have a disconnected, fragmented community in the context of poverty, violence and displacement there is a very high risk that the family structure is also disconnected and fragmented which is a point where tradition is transmitted from generation to generation in the family, and because of  that a point of transmission of tradition becomes destroyed."
He said that people start to wonder around when they don't have a sense of direction. "I believe one of the source of our sense of direction is the tradition but the context of poverty, violence and displacement makes it difficult to have that sense of tradition which can be shared as a community. The moment we don't have a strong tradition the only way we are left to find ways of surviving as human beings is to exercise some of our spiritual capacities called intuitive knowledge, which allows us to get a glimpse of a situation showing us that what is meaningful is good, beautiful and true."
He said that one way of mobilising spiritual forces is by listening to meaning which can be fulfilled through three types of values namely, the experiential value, creative values and attitudinal values. Logotherapy calls us to say these are different ways we can find meaning in life and stop wondering.
In his response Dr Solomon Makola said his journey started as a personal journey where he suffered a loss. He said after reading the book of Dr Viktor Frankl, Man's Search for Meaning he realised that life is not about replacing what was lost, but there is more to live for than material things. He said he started to review philosophy on his own to heal and understand his suffering. When he got the opportunity to study he met a study leader who happened to be a student of Dr Frankl that was the begging of his professional journey that started as a personal journey. "Sometimes things happen to us but it is all about the choices we make before responding to that particular situation. It is very important that whenever you are given an opportunity to do something for the benefit of all that the responsibility is to seize that particular moment, each and every situation presents us with wonderful opportunities to find meaning," he concluded.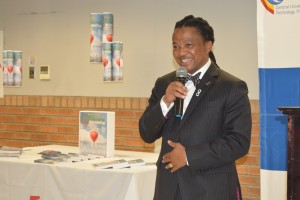 Dr Solomon Makola delivering his address