ECSA launches satellite office at CUT-Bloemfontein Campus
The Engineering Council of South Africa (ECSA) in partnership with the Central University of Technology, Free State (CUT) launched a satellite office in Bloemfontein Central Region, making it the third province in the country to have ECSA offices after Gauteng and Eastern Cape Provinces.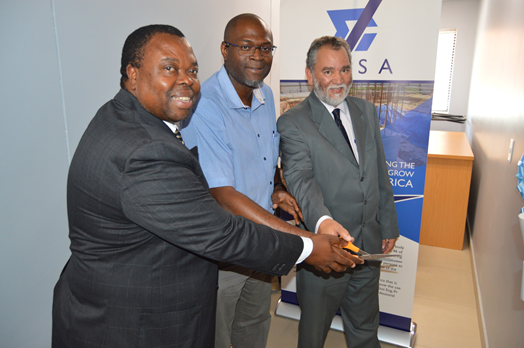 Mr Patrick Maisela Ka Mdluli, Stakeholder Committee Chairperson said that CUT was chosen because it is a public institution for the people. "This innovation is heralding a new dawn in the industry. We are thrilled to have offices in your vicinity which is a clear indication that ECSA is committed to bringing operations to its stakeholders. We are happy to be moving away from centralised operations and giving our people access to services and increase our visibility."
When elaborating on the purpose of the day, ECSA Council Member, Mr Nick van den Berg said that registered professionals will be able to access the offices near them with tailored services to suit their region. "Our main aim is to increase our visibility, encourage more professionals to register, promote partnerships with societies in general and increase a pool of engineers who will ultimately play crucial roles in their regions."
Eng. John Cato, ECSA Executive for PDSG, further launched the ECSA online system and Academies- a self-service portal that will enable professionals to track the progress of their applications without visiting their offices. He mentioned that the system has step-by-step guidelines, is user-friendly, highly secured and accessible on their smartphones and tablets "our professionals can just use their credentials to log in anywhere in their own comfort at their own time".
Prof. Fidelis Emuze, Acting Dean of Engineering said that he was overjoyed to be in partnership with ECSA and that housing the council at CUT is a cherry on top, not only for academics and professionals but also for engineering students who stand to benefit greatly.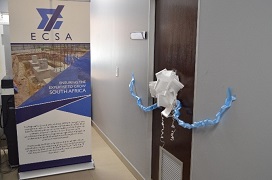 "The office will provide easy access for registered professionals, candidate engineers in the region queries that they may arise, application for professional registration, easy access to programme accreditation and recognition, as our courses in the faculty are also accredited by ECSA.
So, having the office in our premises will be easy for us to share information, ideas and developmental initiatives that ECSA has for our students. It will also draw us closer to our stakeholders who will be visiting the office from time to time," he said.
The Engineering Council of South Africa (ECSA) is a statutory body established in terms of the Engineering Profession Act (EPA), 46 of 2000. The ECSA's primary role is the regulation of the engineering profession in terms of this Act. Its core functions are the accreditation of engineering programmes, registration of persons as professionals in specified categories, and the regulation of the practice of registered persons.
Images
At the ECSA office launch from left: Eng. Sipho Madonsela, ECSA CEO officially opening a new satellite office with Prof. Fidelis Emuze, Acting Dean of Engineering and Dr Keith Jacobs, Vice-President of ECSA.  ECSA offices in Bloemfontein are situated in the premises of the Central University of Technology, Engineering Building ground floor and will serve the professionals in the central region and surrounding areas.
Uploaded: 07 March 2018