CUT honours one of the world's most influential minds
This afternoon, CUT awarded an Honorary Doctorate in Engineering to Prof. Seeram Ramakrishna from the National University of Singapore (NUS) who was appointed as a Visiting Professor in the Department of Mechanical and Mechatronic Engineering at CUT.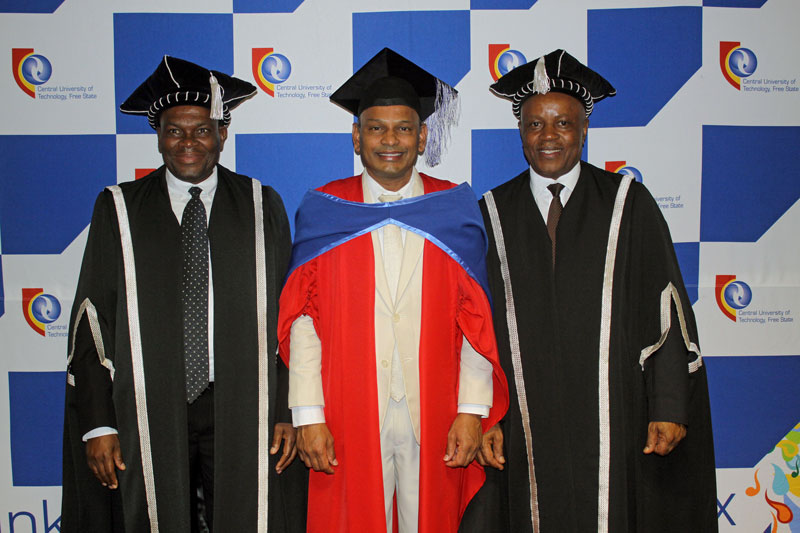 He was recognised by the media and Thomson Reuters as one of the world's most influential scientific minds of 2014 and 2015. He is considered the world's foremost scientist on nanomaterial for use in diverse fields such as healthcare, energy, water and the environment. His research over the past three decades resulted in seminal contributions in novel processing and mechanistic understanding of the functional behaviour of composite materials, nanofibres and nanoparticles. He received several awards and recognitions for his pioneering research contributions in the processing and functional development of composite materials, biomaterials and nanomaterials.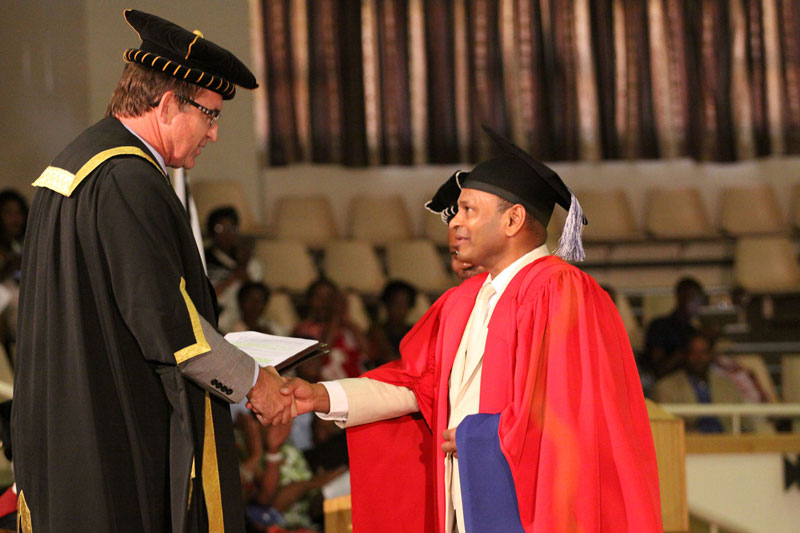 Prof. Ramakrishna leads approximately 50 faculty members in the definition of, and contribution to the Future of Manufacturing initiative of the Faculty of Engineering at NUS. The goals of this initiative is to innovate manufacturing suitable for the co-ordination and running of regional manufacturing and mass customisation of products, and to establish local competence in future manufacturing skills.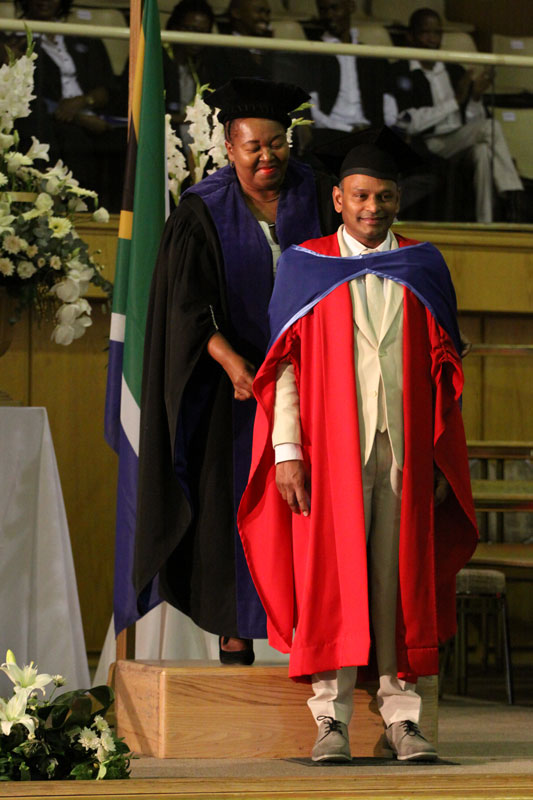 Thus far, Prof. Ramakrishna has supervised 50 PhD students, and has mentored 100 post-doctoral fellows, research engineers and visiting scholars.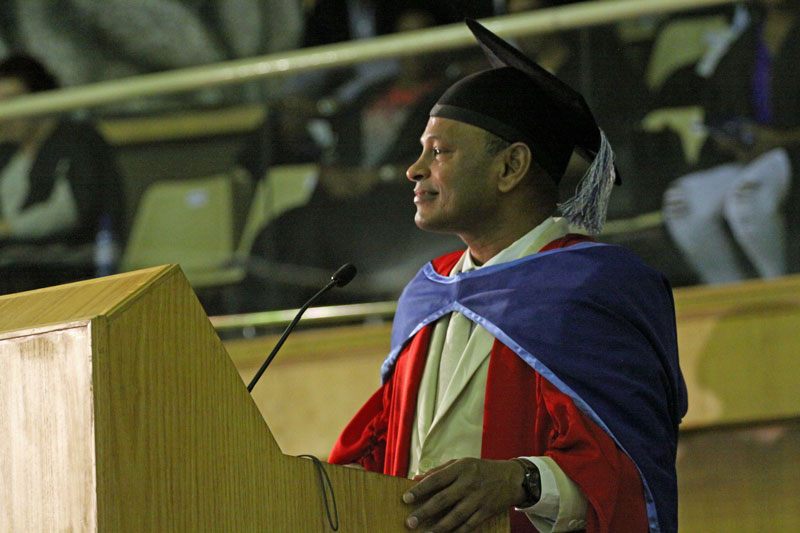 Additive Manufacturing (AM) research in the Centre for Rapid Prototyping and Manufacturing (CRPM) within the Department of Mechanical and Mechatronics Engineering at CUT correlates to a large extent with the research undertaken under the leadership of Prof. Ramakrishna at NUS.  Furthermore, Prof. Ramakrishna serves on the scientific advisory boards of NUS spin-off companies, including Biomers International, Electrospunra and Insight Bioventures. He is also the author of Medical Devices: Regulations, Standards & Practices; the Honorary Editor of Biomaterials & Biodevices, and a member of the Editorial Advisory Panel of Expert Review of Medical Devices.
Images
1: Professors David Ngidi, Deputy Vice-Chancellor: Teaching and Learning; Sareem Ramakrishna, and Alfred Ngowi, Acting Deputy Vice-Chancellor: Research, Innovation and Engagement.
2: Prof. Henk de Jager, Acting Vice-Chancellor and Principal officiates the bestowing of the Honorary Doctorate.
3: Dr Nothemba Mrwetyana, Registrar of CUT has the honour of draping the hood, the final step in the process of bestowing the Honorary Doctorate.
4: Prof. Sareem Ramakrishna delivers his keynote address at the Boet Troskie Hall during the graduation ceremony of the Faculty of Engineering and Information Technology where he is also a visiting Professor.
Uploaded: 29 March 2017