3rd Annual Herman Mashaba Public Lecture held
Entrepreneurship plays a pivotal role in the development of a country's economy as the key contributor to innovation, product improvement, and reduction of unemployment.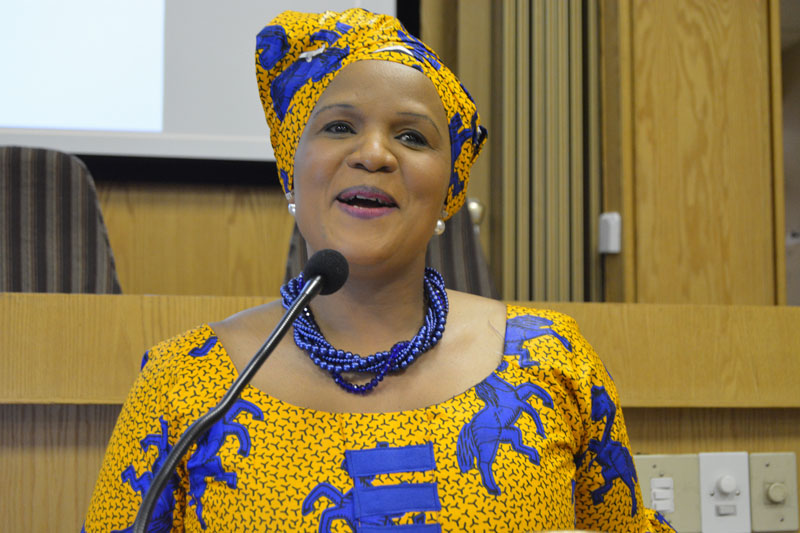 Universities of Technology are making headway in developing new and innovative ways of producing knowledge for the greater good of communities they are serving.
On 21 September 2017, the Faculty of Management Sciences held its third annual Herman Mashaba lecture themed 'Success stories in Entrepreneurship: a Practical Application'. The guest speaker, a formidable woman and entrepreneur in the corporate world with extensive experience, Mrs Nomsa Mosuwe, delivered an insightful and educative lecture on an arduous journey of her success as an entrepreneur in a male-dominated field of business.
From a humble beginning in Thabong, Welkom, Mrs Nomsa Mosuwe first became an entrepreneur at the tender age of nine selling eggs, fruits and vegetables in the street corners of Thabong. "I got fascinated by the thought of making money; from then on, I never looked back."
Mrs Mosuwe mentioned that being a successful entrepreneur is not by chance, but choice; it requires hard work, focus, perseverance, continuous learning, sacrifice, and passion. "Success is about finding a sweet spot and your true north. Your sweet spot is where your motivation, skills, and strengths intersect. When you find your sweet spot and begin operating out of it, you will experience an increased productivity, joy, and fulfilment, because you will be in your most natural position," she said.
In sharing her entrepreneurial journey with the audience, Mrs Nomsa said that successful business people have mentors and build protégées; they have financial management and put control systems in the business, "Allow yourself to be disorientated so that you can be re-orientated. Great leaders make the big picture come to life and embody two qualities- they are highly visionary and practical. Leading well is not about enriching yourself but it is about empowering others, staying in touch with Macro and Microtrends, and keeping your customers close by attending their strategy sessions and giving input."
The lecture is named after Dr Herman Mashaba, a CUT alumnus who received an honorary DTech in Business Administration. Prof Albert Strydom said that the Herman Mashaba Lecture came into being in honour of Dr Mashaba for his immense contribution to business in this country; a self-made entrepreneur who distinguished himself amongst his peers and transcended the challenges of growing his business ventures in an environment that was less conducive and less supportive to emerging entrepreneurs like him to enter the mainstream economy.
Image
Mrs Nomsa Mosuwe, a proud Free-Stater and distinguished businesswoman during her address at the 3rd Herman Mashaba Lecture. Well-grounded and principled, she occupies a conspicuous space within the corporate world circle.
Uploaded: 22 September 2017